→

→

→

2nd Symposium on Marine Enzymes and Polysaccharides (MEPТ17)
14 february 2017
2nd Symposium on Marine Enzymes and Polysaccharides (MEPТ17)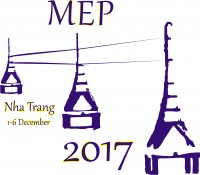 Dear Colleagues and Friends!
We are happy to invite you to the 2nd Symposium on Marine Enzymes and Polysaccharides (MEP'17) which will be held from December 1th to 6th , 2017 in Nha Trang, Vietnam!
The aim of the conference is to provide an opportunity to update delegates with the latest advances in scientific research, academic and clinical knowledge in all fields related to enzymes and polysaccharides of marine origin: their structures, properties, inhibitors, biological activities etc, as well as facilitating networking with other scientists working in these fields.
We kindly request your active support by submitting abstracts to the main topics of the meeting, that are available online at the conference website or in the Call for Abstracts flyer.
Abstracts should be submitted only online and in English until 1 November 2017.
Further information regarding the scientific program and organizational remarks can be found on our congress website
http://www.piboc.dvo.ru/sy/
In case of any questions please contact Secretariat via e-mail
mepnhatrang2017@gmail.com
or by phones:
+7 (423) 231-14-30
+7 (914) 664-02-72
We are very much looking forward to welcoming all of you in Nha Trang, Vietnam!